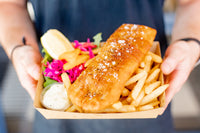 READY TO EAT? ORDER NOW!
Lying by the creek? In a rush? Don't want to line up? Our entire menu is available to order now via a QR code which you can scan – view the menu, pay & pick-up in store asap (15mins) or schedule a time for later. No queues, just roll on through to pick up.
ORDER TAKEAWAY
COOKIE CAKES, PASTRIES & BAKE-AT-HOME
Pre-order our pastries, incredible cookie cakes and bake-at-home range.
PRE-ORDER HERE